Current Light Flashes
The official voice of West Florida Electric Cooperative:
May 2023
Upgrade to a High-Efficiency Heat Pump and Save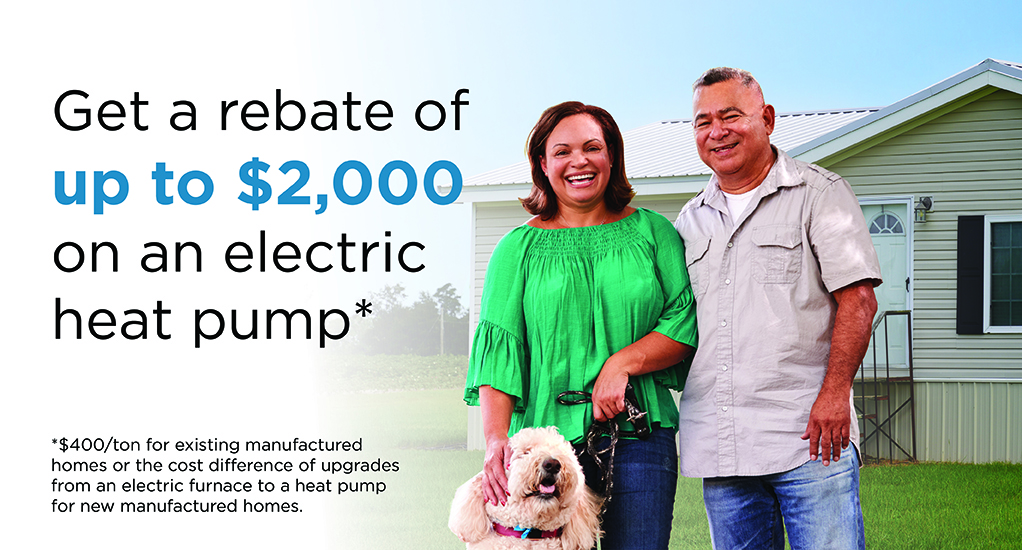 There is a need for manufactured homes to be more energy-efficient. Since they typically come with an electric furnace, we've launched a program to help manufactured home buyers, as well as existing owners, upgrade to a high-efficiency heat pump. This will lower electric use (especially during cold months) and save participants an average of $550 per year!

For all of us who are already watching every penny, $550 per year over many years really adds up.
As a not-for-profit electric cooperative, we want what's best for our members. That includes helping reduce power bills, when possible.

Working with manufactured home dealers in our area, West Florida Electric Cooperative (WFEC) will cover the DIFFERENCE to upgrade from an electric furnace to a high-efficiency heat pump in any new manufactured home purchased by our members, at no cost to the buyer. The upgrade cost is paid directly to the home dealer at the point of sale. The upgrade helps lower the purchaser's electric bills.

Ask your mobile home dealer about upgrading your insulation package. The more insulation you have, the lower your energy costs might be. Investments like upgrading insulation levels can result in savings for years to come.

Already living in a manufactured home? We're helping you, too. There are also rebates available for your heat pump upgrade! Those members can get a rebate up to $400 per ton when replacing an electric furnace with a high-efficiency heat pump. Plus you'll enjoy comfort and lower costs.

Manufactured home owners can also retrofit their homes to make them more energy efficient. Here are some ideas:
• Install energy-efficient, double-pane, Low-E glass windows with vinyl frames. They can be air-filled but also have an option to be argon gas filled for even more efficiency. This type of window allows light in and keeps UV rays out. They'll also help reduce energy usage and outside noise.
• Install energy-efficient, insulated doors
• Add insulation underneath the floor
• Make general repairs (like caulking, fixing ducts, etc.)
• Install faucet aerators and ultra low-flow toilets to reduce water use
• Add insulation to walls
• Wrap all duct work with R-8 insulation
• Install insulated skirting
• Install a belly wrap
• Add insulation to your roof or install a roof cap
The National Renewable Energy Laboratory (NREL) found that these retrofitting measures resulted in a 31 percent reduction in heating fuel usage. To further improve your manufactured home's energy efficiency, consider the following:
• Caulking and weatherstripping windows and doors, especially if you can't replace them with the more energy-efficient ones
• Seal air leaks - look for leaks around plumbing. light fixtures, and ducts
• Install a smart thermostat - they will control comfort levels and provide energy-savings
• Consider using LED lighting and installing ENERGY-STAR appliances throughout your home
• Install water heaters with an energy-factor of .92 or above.

Check the manufacturer's recommendations to see if using a water heater blanket is advised for greater efficiency.
• Consider planting trees and other vegetation to help shade your home.

Direct sunlight hitting windows is a major contributor to overheating your home during summer months. By planting trees that block sunlight, you can improve comfort and reduce your energy use. The most important windows to shade are the ones facing west, followed by windows that face east. Carefully positioned trees placed around the home can save as much as 25 percent of household energy consumption. Planting shrubs around your home can also help control energy costs. Shorter
varieties of deciduous trees can be planted near exposed west-facing windows to help shade homes on sultry summer afternoons. With a little research and planning, you'll be well on your way to a beautiful, energy efficient lawn.

Some of the repairs and upgrades mentioned in this article might qualify for low-interest financing through the cooperative's Home Energy Loan Program.

Find more information about that program and the projects that might qualify for financing, visit our website at www.westflorida.coop or call Rhonda Byrd-Lee at 800-342-7400 today.