Current Light Flashes
The official voice of West Florida Electric Cooperative:
February 2023
Classifieds - February 2023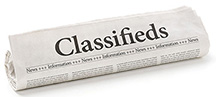 Electronics
27" TV, swing out stand, Samsung remote, $75; 703-1859
Home/Farm
Priefert 91 head gate, brand new, still has plastic on chains; 850-209-7917.
Wrapped peanut hay and Bahia grass hay; 850-557-2746.
Argentine Bahia hay, 4x5 rolls, barn stored; 850-579-2732.
Fertilized Tifton/Coastal Bermuda hay, 4x5 rolls, net wrapped, $60 or $65, delivered; 850-593-5213 or 850-209-4475.
Murray M2500 gas-powered weed eater, used, good condition, $45 OBO; 850849-7750.
Miscellaneous
Tri-fold cover, fits F-150 with 5 1/2 ft. bed, two years old, like new, $300; 219-730-5597.
Medical supplies, briefs, booster, contour & abdominal pads; male guards, gauze, split sponges, adhesive dressings; 850-209-3945.
Pride four-wheel scooter, new, one month old, $1,500; 850-415-6510.
Homemade/handmade quilts, lap quilts, baby quilts, twin, full or queen; two used bathtubs, great price; 850-547-3649.
New Yamaha 6 string acoustic guitar, Korg electric tuner, gig bag, batt. string tightener, new pack of strings, $225 firm; 850-548-5405.
Rawmaxx 77" x 12' 10k dump trailer, used once, new condition, $9,000; 850-625-2899, call or text.
Generator, Champion, dual fuel, used 3 times, $800; 850-703-1859.
Multiple Listings
1960s cedar chest, solid cedar, $200; cat tower, $25, text or call; 423-429-3624.
Amaryllis bulbs, $2-$3, daffodils, 6 bulbs for $5; dirt scoop, $250; cultivator; $200; Coleman Mule, $350; John Deere LA, $5,000; two Jacques Mighty Mites, $1,200 & $1,500; 850-547-2864.
Three-horse slant trailer; 16 ft. hay trailer; 24 ft. Circle W stock trailer; barrel, roping, pleasure saddles; tack; 850-592-2494 or 850-209-8532.
120 pieces pottery, porcelain, ceramics, American, Oriental, lots more, $500 value, sell for $300; 9 Big Mouth Singing Billy Bass, $50; 850-674-6242.
Oak entertainment center, glass doors, claw feet; coffee table, glass top, eight sides; chest of drawers, 15 drawers, 9x5 inches; 850-693-0636.
Recreational Vehicles
20' 1981 Grady White with trailer, many accessories, Yamaha V6 150 and Yamaha 6 4-stroke engines, $10,000; 850-593-0593.
MSU-500 Massimo, 2018 model, four-wheel drive; 850-643-7667.
Vehicles
2004 Mercury, $2,500, as is, engine is in very good condition; 850-658-2759.
Wanted:
8mm Mauser rifle, Model 98, military or sporterized; 8mm brass; 850-526-8020.
Horses; ponies; mules; donkeys; 850-592-2494 or 850-209-8532.
150-500 acres pastureland,in Holmes or Washington County; 850-234-7070.
Penny through dollar coins, loose, in jars, collections and estates, buy, trade or sell, honest & professional; 850-326-3437.
License plates from any state, mainly Florida, prior to 1980; old motorcycles or parts prior to 1960; 850-557-7030, Greg.
Free:
Wood frame house, to be taken down and moved from land, Sneads; 850-593-5560 for more info.
Ten-month-old Blue Heeler, free to a good home; 850-768-4265.
Lost/Found:
Found dog at Silver Lake Estates, off Hwy 167, female, blonde, looks Shepherd mix; 850-348-1419.