Current Light Flashes
The official voice of West Florida Electric Cooperative:
January 2023
Classifieds - January 2023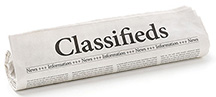 Animals/Livestock
Purebred Belgian Malinois pups, parents on premises, $300 each; 850-643-7894.
Tiny Shih tzu, boy, adorable, can send pics, he is a doll, $575; 850-768-0709 text or call.
Home/Farm
Rheem 50 gallon electric water heater; 850-209-8520.
5x8 trailer, mesh floor, built by Trailer World, $600; 850-272-2477.
Mahindra 4550 tractor, 4-wheel drive, 268 hours, more implements, $21,000; 850-394-7485.
Argentine Bahia hay, 4x5 rolls, barn stored; 850-579-2732.
Miscellaneous
Fiberglass topper, white, 72" wide by 72" long, A-1 shape; 320-304-5414.
Homemade/handmade quilts, lap quilts, baby quilts, twin, full or queen; two used bathtubs, great price; 850-547-3649.
Small amaryllis flower bulb business, approximately 5,500 potted plants, extensive ad listings on eBay and our website, present customer base information, rights to our 440+ YouTube videos, miscellaneous items, some training help, $54,000; 850-592-8769.
Climbing tree stand, Warren & Sweat, $50 firm; 850-703-1859.
Multiple Listings
Square bale annual peanut hay; 5x5 rolls grass hay; walk-in cooler; grain fed beef; 850-263-3427.
Clearing out storage; end tables; ceiling fans; shelves; kitchen items; much more; 272-4935.
Large antique sewing cabinet, 21" wide, 42" long, 31" high, $100; seasonal wreaths, various and assorted Christmas decorations; 850-372-7500.
Large gas tank; medium gas tank; GE electric stove, white; GE microwave, white; GE dishwasher, white; best offer; 850-592-2153.
Three-horse slant trailer; 16' hay trailer; barrel, pleasure, roping saddles; tack; coon dog; harness for mules and ponies; 850-592-2494 or 850-209-8532.
Real Estate
48.8 acres farmland, in the Graceville, Florida area, access from paved road; 651-230-2451.
Wanted:
Live-in companion needed to live in with elderly lady, free room and board in exchange for light housekeeping and cooking, references needed; 214-405-4720.
Horses; ponies; donkeys and mules; round pen panels; 850-592-2494 or 850-209-8532.
150-500 acres pastureland, in Holmes or Washington County; 850-234-7070.
Penny through dollar coins, loose, in jars, collections and estates, buy, trade or sell, honest and professional; 850-326-3437.
License plates from any state, mainly Florida, prior to 1980; old motorcycles or parts prior to 1960; 850-557-7030, Greg.