Current Light Flashes
The official voice of West Florida Electric Cooperative:
July 2023
Classifieds - July 2023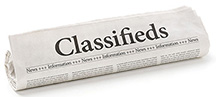 Animals/Livestock
Red Angus bulls, low birth weight; 850-209-7919.
Antiques/Collectibles
Various Christmas decorations/collectibles, electric & manual movement, like new, in original box, photos upon request via email or text; 850-674-1894.
Appliances
GE French door refrigerator, used 6 months, dimensions: 68"x26"x33", $1,750; 850-372-7500.
Samsung front load washer & dryer, $400; 7 cubic foot stainless door apartment refrigerator, $135; 850-956-1224.
Home/Farm
33" Snapper riding lawn mower, older, runs and mows good, $300; 850-263-4339.
TroyBuilt plow, new, only used one time for about 10 minutes, $1,000; 850-317-5679.
American Drew glass top dining table, 6 chairs, buffet cabinet w/silverware, setup corner China cabinet w/light, $1,200 OBO; 850-579-2662.
Miscellaneous
8x16 Express Cargo trailer, 7k GVWR, dual axle, rear ramp, side door curbside, high ceiling, front shelf, high quality trailer in very good condition, run about 5,000 miles, $6,500, near Graceville; 770-309-0509.
Campbell Hausfeld airless electric paint sprayer, 1/2 HP, Model AL2305, comes w/hose and spray gun, but gun needs rebuilt, pump and motor runs good; 850-573-5117.
Lightly used rear tractor tire, Good Year Optitrac, size LSW420/75R34; 850-573-5117.
New Cannon AF 35MII camera w/case, $100; 1940s Polaroid land camera, model 95R w/flash and case, $50; 850-674-6242.
6" Snap-On vice, half horsepower Baldor bench grinder, sharpening stone on one side, wire brush on other; 850-836-4477.
New Yamaha 6-string acoustic guitar, w/electronic tuner, battery operated string tightner, two new sets Ernie Ball strings, gig bag, $200; 850-956-2221, Kenny.
Multiple Listings
Square bale annual peanut grass hay, 5x5 rolls; walk-in cooler; 850-263-3427.
New Duo fast cordless roofing nailer, w/bonus pack, $549; new Eddie Western hats, $38; vinyl hall runner, $1.60 per foot; 850-547-0448 or 850-373-3709.
Homemade/handmade quilts, lap quilts, baby quilts, twin, full or queen; 2 used bathtubs to be used for water or feed troughs, great price; 850-547-3649.
Two-horse trailer; grain wagon; barrel, roping, pleasure saddles; tack; Treeing Walker coon dog puppies registered PKC and UKC shots, wormed; 850-592-2494 or 850-209-8532.
Two clamp-on trolling motors, MotorGuide, Minnkota, $125 for both; 9 singing Billy Big Mouth Bass, $50; 850-674-6242.
Real Estate
One acre lot, w/24x40 carport with concrete slab, 12x20 shed, 16x16 concrete RV pad, well and septic included; 850-768-4231.
Recreational Vehicles
Jon boat, 16'x4' flat bottom, 1992 Camo Puracraft, 2015 Magic Tilt trailer, no motor, great shape, $4,000; 813-317-1907.
2000 Fleetwood travel trailer, 30 ft., loaded w/essentials including smoke detectors, recently remodeled, $7,500; 850-573-6583.
Vehicles
1997 Chevrolet 1500 Cheyenne pickup truck, $5,000; 850-956-1217 or 850-768-4990.
Wanted:
Horses, ponies, mules, donkeys, round pen panels; 850-592-2494 or 850-209-8532.
150-500 acres pasture land, in Holmes or Washington County; 850-234-7070.
Penny through dollar coins, loose, in jars, collections and estates, buy, trade, or sell, honest; 850-326-3437.
1970 Monte Carlo front bumper, will trade for 1971 Monte Carlo front bumper or will buy; 850-547-0448 or 850-373-3709.
License plates from any state, mainly Florida, prior to 1980; old motorcycles or parts prior to 1960; 850-557-7030, Greg.
1953-1964 Studebaker hard-top two-door Commander, silver or golden hawk; 850-830-7653.
Someone to repair Bally Corvette pinball machine, have manual; 850-830-7653, Steve.
Looking for people who have loved ones buried at Hudson Hill Church Cemetery in Westville, would like to fix tombstones for free; 850-956-2221.
Free:
Three female kittens, about a month old, free to a good home; 850-638-8166.
Chest freezer, works good; bedroom suite; large wooden bookcase; dish cabinet; 850-326-0335.
Giant pines, 5 plus, for lumber, you cut and haul; 850-703-1859.