Current Light Flashes
The official voice of West Florida Electric Cooperative:
March 2023
Classifieds - March 2023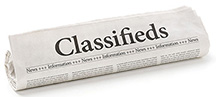 Animals/Livestock
GSP puppies, can send pics; 850-693-5001, Archie.
ABGA registered Boer goats, bucks and does, all ages, Vernon; 850-849-2426.
Antiques/Collectibles
120 pieces of old pottery, porcelain, ceramics, American China, Japanese, much more, $300; 850674-6242.
Over 75 Precious Moments figurines; 561-762-0116.
Home/Farm
Champion generator, dual-fuel, model #100296, gas plus propane, $800; 850703-1859.
1951 John Deere tractor, new tires, no oil leaks, ready for a parade, $4,000; 850-814-4437, ask for Andy.
Miscellaneous
27 used 5-foot metal fence posts, $140; 850-209-6581.
Homemade/handmade quilts, lap, baby, twin, full or queen quilts; two used bathtubs, great price; 850-547-3649.
Zinger wheelchair, lightweight, rechargeable battery, easy steering, folds w/carrying case, like new, $1,600; 850-569-1076.
Lumber, $0.67 per square foot, rough cut pine wood, 850-726-0132, ask for Andrew.
Farm fresh eggs, unwashed, $5/dozen; 850-774-0009.
North Star Pro Series generator, 5500 watts, gasoline, 9-HP Honda engine, started for test runs only, original clean oil; 850-573-5117.
Multiple Listings
4' fencing, 2 rolls of about 50 ft. each, $90; 27 metal fence posts, 5' tall, $140; Clarity cordless phone w/digital answering machine, excellent condition, $60; 850-209-6581.
Square bale annual peanut hay, 5x5 rolls; grass hay; walk-in cooler; grain fed beef; 850-263-3427.
Two old Maytag wringer wash machines, need work, $50; amaryllis bulbs, $2-$3; daffodils, six for $5'; 850-547-2864.
3-horse slant trailer; barrel, roping, pleasure saddles; tack; grain wagon, treeing Walker Coon dog puppies; gentle horse; 850-592-2494 or 850-209-8532.
New Motor Guide trolling motor, 22 pound thrust, forward, reverse; Minn Kota 24 pound thrust, three forward, one reverse, both $150; 850-674-6242.
Recreational Vehicles
Boat, 10' 2015 G3 aluminum boat, attached folding seat, $400, title in hand; trolling motor, $100; 870-321-6969.
Vehicles
1999 GMC Suburban, 3/4 ton, runs and drives great, 230,000 miles, 2WD, $4,500 OBO; 330-503-5201.
Wanted:
150-500 acres pasture land, in Holmes or Washington County area; 850-234-7070.
Penny through dollar coins, loose, in jars, collections and estates, buy, trade or sell, honest; 850-326-3437.
50 acres, cut hay or row crop, 1284 HWY 81 N., Westville; 850-393-3100.
Horses; ponies; mules; donkeys; 850-529-2492 or 850-209-8532.
License plates from any state, mainly Florida, prior to 1980; old motorcycles or parts prior to 1960; 850-557-7030, Greg.
Piano player for church; 850-630-5978.
Free:
King-size mattress and box springs, excellent condition; 850-393-3100.
Solid Black & Black & Tan German Shepard/Golden Retriever mixed puppies, born January 23, ready to go by March 6; 850-573-1239, ask for Mike.