Current Light Flashes
The official voice of West Florida Electric Cooperative:
May 2023
Classifieds - May 2023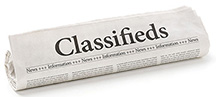 Animals/Livestock
GSP puppies, can send pic to cell; 850-693-5001, Archie Jones.
Full Husky & German shepherd/husky mix puppies, de-wormed & vaccinated, parents on site, ready to go, $500; 850-849-0948, call or text.
Home/Farm
Adjustable round table, very strong, on a pedestal, $350; 850-263-4339.
Solid wood bedroom suite, full size, good condition, $500; solid wood, white, twin bedroom suite, excellent condition; $500; recliner, good condition, $200; 850-547-2563.
Miscellaneous
20 gallons blue timber-marking painting, cheap; 850-326-3882.
Inversion table, Ironman 4000, used very little, excellent condition, $100; 850-547-1519.
Electric typewriter, Sharp Intell writer #PA3100, like new condition, includes original manual, $75 OBO; 850-547-7493.
North Star Pro series generator, 5500 watts, gasoline, 9-HP Honda engine, started for test runs only, original clean oil; 850-573-5117.
Pro-Form stepper, excellent condition, $500; 850-592-2799.
Motorized wheelchair, bariatric weight capacity, nearly new, Quantum Q6 Edge I-Level, $5,000; 850- 693-0764.
Multiple Listings
Dog crate, $10; bird cage, 30x20x50, $100; 42" dark wood pedestal table, very good condition, $100; 850-209-6581.
Square bale annual peanut hay; grass hay, 5x5 rolls; walk-in cooler; 850-263-3427.
Homemade/handmade quilts lap quilts, baby quilts, twin, full or queen; two used bathtubs, great price; 850-547-3649.
Two-horse trailer; Power Pack Walker puppies, registered UKC, PKC and Super Stakes; three-horse slant trailer; barrel, roping, pleasure saddles; 850-592-2494 or 850-209-8532.
Recreational Vehicles
1997 Sun Tracker 21' pontoon boat, all aluminum, no motor, no steering cables, great for floating dock, $2,500; 850-260-2324 from 8-5 PM.
1991 Harley Davidson motorcycle, Electra Glide Classic, new tires, battery, and shocks, runs good, must sell, $3,000; 850-768-4231, call David.
Vehicles
2019 Toyota Sienna XLE, wheelchair conversion minivan, auto ramp, 51,000 miles, pristine condition, $55,900; 850-693-0764.
Wanted:
Horses; ponies; mules; donkeys; round pen panels; 850-592-2494 or 850-209-8532,
150-500 acres pasture land, in Holmes or Washington County; 850-234-7070.
Penny through dollar coins, loose, in jars, collections and estates, buy, trade or sell, honest; 850-326-3437.
License plates from any state, mainly Florida, prior to 1980; old motorcycles or parts prior to 1960; 850-557-7030, Greg.
Side-by-side, in good condition, with dump bed; 850-628-4669.
Thank You:
We are deeply grateful to you all for your outpouring of love and kindness to us during our loss of our mother, Catherine Worley. Your uplifting visits, food, beautiful flowers, cards, and especially prayers have helped sustain us. We miss our mother so much, though we know she trusted the Lord as her savior and is in a perfect heaven now. Thank you all so much, and please continue your faithful prayers for us. God bless each and every one. The D.B. Worley Family