Current Light Flashes
The official voice of West Florida Electric Cooperative:
November 2023
Classifieds - November 2023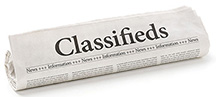 For Sale
Animals/Livestock
Grain fed Angus beef, no hormones, 5 months on corn, ready April 2024, $4.75/lb. on the rail, cut and wrapped; 850-326-2754.
Red Angus & Semi-Angus bulls & heifers, all purebred w/registration papers; 850-573-0949.
Shihtzu puppies, small, gold with mask, born late August, adorable, happy to text a pic, $875, Westville; 850-768-0556.
Five AMGA registered bucks, from 2-8 months old, great herd builders; 850-849-2426.
Home/Farm
Coastal hay, 5x5 roll, fertilized, excellent quality, barn stored, never been wet; 850-592-4798.
Adjustable round table, great for that Thanksgiving dinner; 850-263-4339.
Bahia grass hay, 5x4 rolls; 850-573-5145.
Coastal hay, 5x5 roll, excellent quality, every cutting fertilized, barn stored, never wet, 850-592-4798.
Long 445 tractor, w/bush hog and leveling blade; 251- 979-5971.
Miscellaneous
1958 Army collection Class A uniform, helmet, camo cover, liner duffel bag, Ft. Jackson training book, $300 OBO; 850-674-6242.
Used Tyger T3 Soft Tri-fold Tonneau cover, for 2015-2020 Ford F-150, 5.5' bed, in good condition; 850-573-5117.
Honda 5 HP pressure washer, new tires, new spray gun, 25' of hose and all nozzles, works fine; 850-573-5117.
Automatic transmission, for a 2005 Explorer SUV, worked when it was removed, $400 OBO; 850-638-8166.
Dog kennels, like new, 6' high x 10' long, $200 OBO; 850-693-5001, Archie Jones.
Multiple Listings
Square bale annual peanut hay; grass hay, 5x5 rolls; walk-in cooler; shelled ear corn; 850-263-3427.
Cell phones, new active, $70 OBO; 13" color TV, new in box, $100 OBO; 299-2260 or 850-703-1947, call before 8 p.m.
Furniture; garden tools; mechanics tools; power tools, ever tool for any job; 850-372-7500.
Three-wheel bike, used 3 times, like new, $100; treadmill, very good condition, $75; 850-527-9090.
TCL 65" TV, works good, $100; Iron Man Inversion table, used very little, $100; Clevermade lock box, $45; 850-547-1519.
Homemade/handmade quilts, lap quilts, baby quilts, twin, full or queen; two used bathtubs to be used for water or feed troughs, great price; 850-547-3649.
Three-horse slant trailer; grain wagon; barrel, roping, pleasure saddles; tack; Exiss aluminum trailer; coon dog; 850-592-2494 or 850-209-8532.
TL center pivot irrigation parts, center tower, pipe, etc.; Winchester 30-30 AE, model 94 rifle; 850-592-4798.
26 old paintings/art works; 120 pieces of pottery, porcelain, ceramics, Oriental, American; 2 trolling motors, motor guide, Minn Kota clamp-on, $150; 850-674-6242.
Recreational Vehicles
16' Jon boat w/trailer, trolling motor w/battery, great shape, $3,150; 813-317-1907.
Blue 2022 Rider 10 ATV, like new, $1,200 OBO; 850-209-0163.
50 HP ETEC outboard motor with cables, SS prop, serious inquiries only, $1,500 OBO; 850-209-3626, text or call.

2022 Coleman 400 UTV, used, like new, 15 hours, red/black, $5,600; text 850-209-7383.

2021 Triton TRX 179, 18' w/115 four-stroke Mercury motor, Lowrance Fish Finder & trolling motor, low hours, barn kept w/cover, $30,000 OBO; 850-557-6793 for more info.
Wanted
Horses; ponies; mules; donkeys; 850-592-2494 or 850-209-8532.
150-500 acres pasture land, in Holmes or Washington County; 850-234-7070.
Penny through dollar coins, loose, in jars, collections and estates, buy, trade, or sell; 850-326-3437.
License plates from any state, mainly FL, prior to 1980; old motorcycles or parts prior to 1960; 850-557-7030, Greg.
Sugar cane, 100 stalks, will top out and cut myself, want enough for one grinding and to plant; 850-573-0456.
Free
25 choir robes, burgundy bodies w/ cream neck pieces; 850-263-7371, ask for Rodney.
Seven kittens, ready for good homes; 850-638-8166, if interested.