Current Light Flashes
The official voice of West Florida Electric Cooperative:
April 2023
Powerful Information: Solar Myths & Facts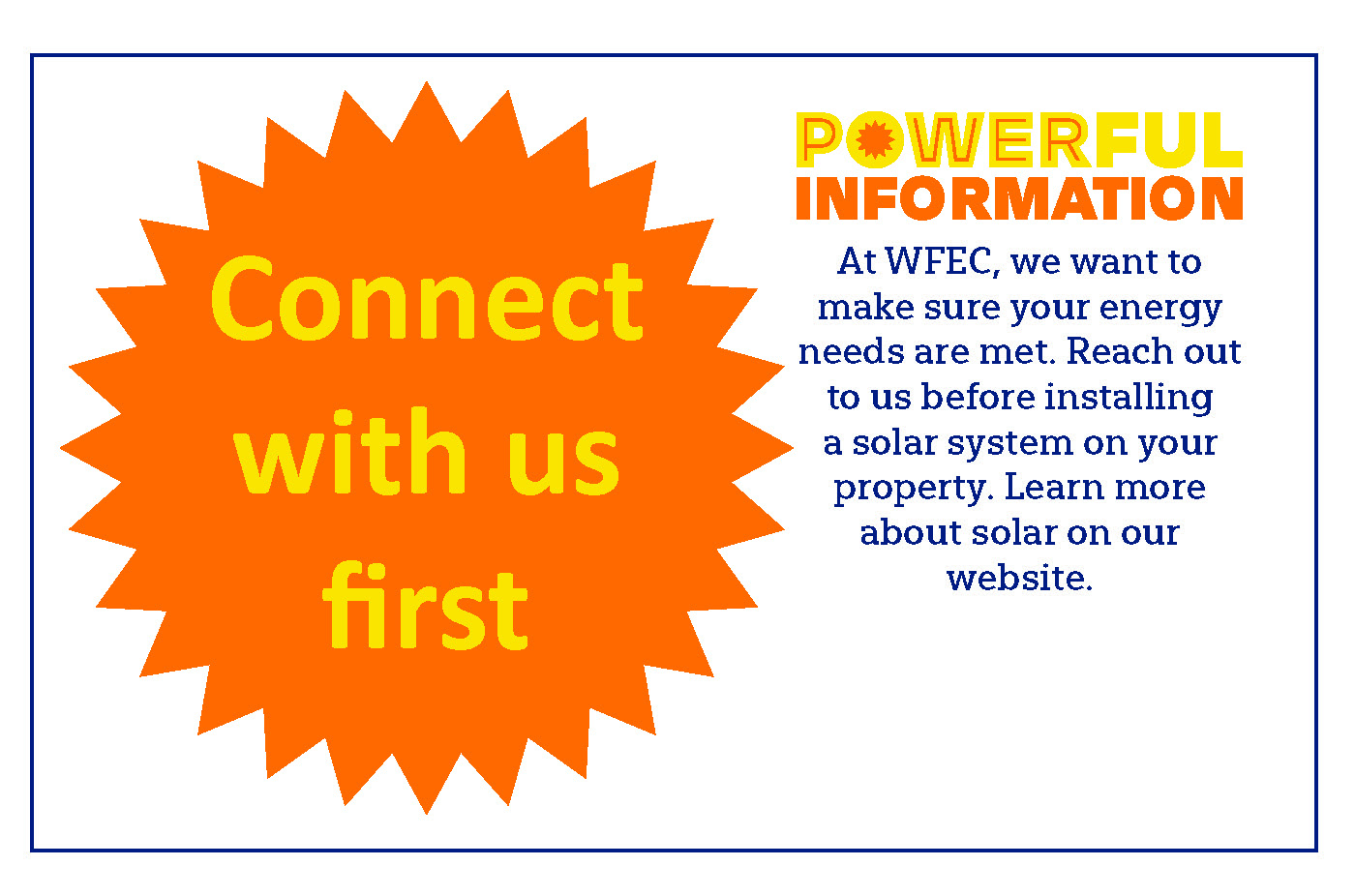 As more West Florida Electric Cooperative (WFEC) members express interest in renewable and zero-emission energy sources, it is the co-op's job to help you make energy choices for your home. From insurance to interconnection agreements, there's a lot that goes into installing solar at your residence. We can answer your questions and provide facts you can use to make the best decision. We're here to answer your solar energy questions. Check out these myths and common misconceptions about solar:

Myth: I don't need to contact my electric cooperative before I install a solar system on my property.

Fact: Owner's of solar systems are required to notify WFEC of plans to construct, install and operate any solar system that will be connected to our distribution system. Talk to us about filling out an interconnection agreement application in advance of purchasing or installing your solar system.

Myth: Solar power is free.

Fact: It can take many years to pay off the up-front costs of solar.

Myth: Installing solar decreases or eliminates my electric bill.

Fact: Significant up-front costs and other factors should be included when calculating the true price of home solar.

Myth: If I install solar, I won't need the grid.

Fact: In order to ensure reliable and uninterrupted power, solar systems must be balanced with a continuous source of dependable power from WFEC. As peak production for solar generation is typically between 11:00 a.m. and 3:00 p.m., the grid accounts for peak consumer use during other times of the day, including peak demand periods. Peak demand is set when many people use electricity at the same time, raising the demand for power, sometimes leading to the highest – or "peak" – demand of the day, week, month or year. During the summer, peak times are usually from 3:00 p.m. to 7:00 p.m.

We support and value renewable energy resources, including solar, that make sense for the people we serve. As your trusted energy advisors, we work hard to safely deliver power that is reliable and affordable. At WFEC, we want to make sure your energy needs are met. Reach out to us before installing a solar system on your property. For reliable and uninterrupted power, solar energy must be balanced with a continuous source of dependable power.