Current Light Flashes
The official voice of West Florida Electric Cooperative:
August 2023
WFEC Co-hosts Energy Education Workshop for Area Teachers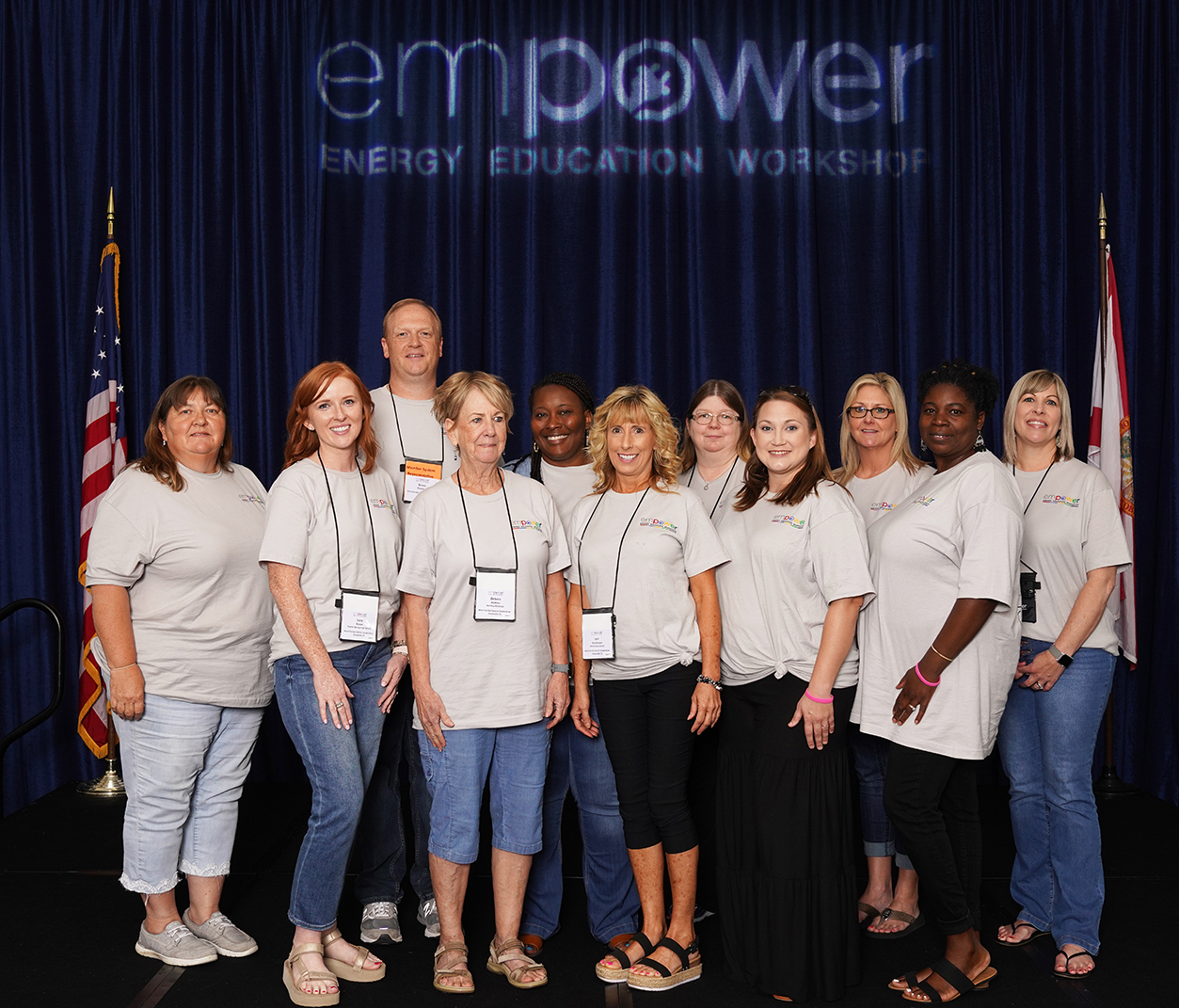 Teachers attending the Empower Energy Education Workshop (front row, l-r): Jeannie Barefield, Lacy brown, Deborah Holmes, Lori Hutchinson, Ashley Jenkins and Talita Olds, (back row, l-r): Derek Chadwell (WFEC), Vickie Everett, Tammy Pinnella, Teresa McDaniel and Marie Ellenburg.
Ten teachers from West Florida Electric Cooperative's (WFEC) service area became students at an energy education workshop hosted by WFEC in partnership with PowerSouth Energy Cooperative and the National Energy Education Development Project (NEED) during the month of June.

"This conference is so valuable in educating teachers about the importance of energy education. By far, this is the best conference I have ever been to. My students always enjoy the activities and fun lessons that are taught using the many resources from Empower," said Marie Ellenburg, a high school teacher at Poplar Springs School.

The Empower Energy Education Workshop provides fun, engaging, fast-paced activities about electric generation and distribution with a focus on energy education and is part of an initiative to promote a balanced approach to energy education in the classroom. Each teacher who attended the Empower Education Workshop received a kit with experiments, curriculum, and resources they can use with their students in the classroom. The materials, aimed at K-12 students, include hands-on activities designed to teach tomorrow's leaders about all energy sources – from fossil fuels to renewables. Developed by the National Energy Education Development (NEED) Project, this curriculum is used in more than 65,000 classrooms nationwide. These resources meet students' diverse needs and learning styles.
"I look forward to using the resources to create more hands-on activities in my classroom. I am super excited to incorporate some copper wire activities for our circuit unit! I also plan to use some of the activities as ice breakers," said Ashley Jenkins, a 5th grade science teacher at Marianna K-8.

When asked about her favorite activity, Jenkins said creating the energy house is a favorite, but that she especially enjoyed the circuit/copper wire tape activities this year. "I had never seen or used this activity and am very excited to use it in my class this year," she said.

Whether you are new to teaching or a veteran of many years, your co-op welcomes your participation and attendance at Empower in the future.

"I have always recommended Empower to our science teachers and others. I am thankful someone recommended it to me. Empower truly does empower teachers. The impact that it has on teachers is unimaginable. The excitement we have only pales in comparison to the excitement that students will have with the resources provided. Thank you, West Florida Electric, for feeding my passion for learning," said Ellenburg.